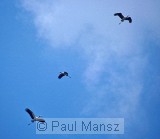 A flock of Painted Storks descended into the tidal flats inside Sungei Buloh park at Singapore. According to Robson (A Guide to Birds of Southeast Asia) this is a vagrant rarity.

Click on the thumbnail for a larger version.
I also have video of a flock of the storks, and one individual fishing.

Medium size (~360k)

Large size (~1Mb)
* Requires Windows Media Player